Tracey over at
Scrap Lovers
has proposed we do a photo a day to improve our photography skills and it sounds like an excellent idea to me. Now, I will not be posting a photo on this blog every day. I will probably do it once per week. But, the photo from yesterday I thought was way too cute to wait.
This picture is of a rescued kitten that was almost starved. He was absolutely skin and bones. Probably the only reason he was still alive when we got him was his fiery spirit. Well, Tex loves to sit on my printer and watch me work.....but last night....well just look at the photo!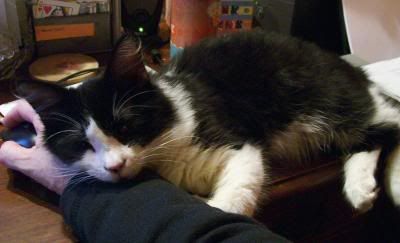 BTW...there is a story behind his name. When we would feed the cats outside, he would growl and slap at the cats that were 3 times his size. I kept making the statement that he had some balls as big as Texas to be slapping and spitting at the large cats we had outside. So, my husband said he should be named, Tex....short for Texas....of course!
Hope you enjoyed the photo and will leave some love to let me know you stopped by! Until next time!!