Grand Opening Cyber Crop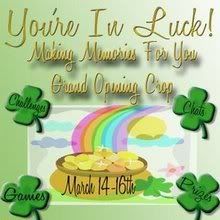 Making Memories For You
is having their Grand Opening Crop starting March 14 and running until March 16 at 6.p.m. Everybody come on over and join in the fun and prizes! I have taken the post below directly from Frankie's thread on the site.
Begins Friday, March 14th at 10 am EDT and runs through Sunday, March 16th at 6PM. Members will have until midnight EDT on March 16th to upload projects.

Point system: Members can earn points which will be taken into consideration for the determining the winner of the Cyber Crop Grand Prize. Members can keep track of points in their siggies:
• Challenges – Each person who completed a challenge and uploads in the gallery and posts to the challenge thread by designated deadline will earn 5 points.
• Planned Games – Each person who participates in a game will earn 2 points for that game.
• Bonus Games – Each person who participates in a bonus game will earn 1 point for that game.

Join us on March 15th at 7pm PST with our guest May Flaum. May is a lifelong crafter, co-author of the brand new book paper + pixels: scrapbook layouts, instructor for Big Picture Scrapbooking, and a lead Fisk-a-Teer. She will be chatting with us about her new book, upcoming fun with the fisk-a-teers, answering questions about Fiskars products, and any other questions you might have! Visit May's Website here.
If you want to have some play some games, do some scrapping, and maybe win some prizes....then come on over to
Making Memories For You
.
Until next time!!!!