Sorry, I have been gone for so long. Too many things getting in the way. Hopefully things are straightened out now and I will be posting much more regularly.
I had a great Christmas...all things considered. I sure do miss my son and his family who moved to Baumholder, Germany in September. But, I did get to talk to them on Christmas Day and that was a huge help!
Well, I spent the part of Christmas Day at my sister's house...ate lunch with her and then came home and took a long nap! Man was I wiped out.
Here is a layout I did using some of the photos from Christmas Day.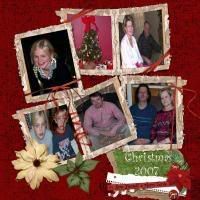 credits: background from Old Fashioned Christmas by Rick Evans; frames by fotosusu; cardboard cluster from Christmas Around the World by D.L. Patterson; and flowers from December RAK by G. Dupus & C.L. Crook