Are you ready? Do you have all your scrapping tools? What about your snacks & something to drink? I have all of mine and I'm about to get busy scrapping!
K-JOI is having a Blog Carnival and I am proud to be a part of the festivities. This means there will be tons of FREEBIES for you! The K-JOI team has put together a collaborative Circus theme kit just for this event and all you have to do is follow the links to the blogs and download each one!
I hope you enjoy visiting each blog to get the FREE download. While you on the different blogs.....please leave a comment to let each blog owner know you stopped by. Below is a preview of the whole kit.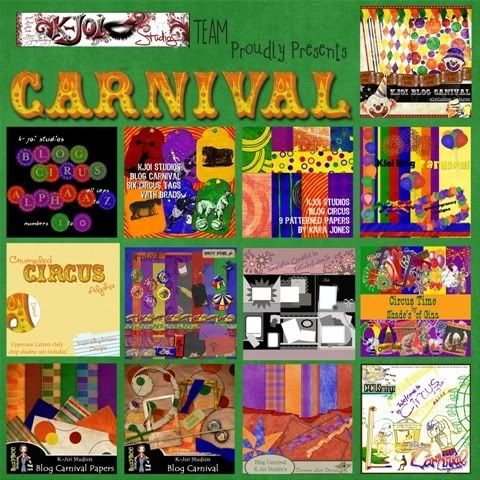 Stop by all the blogs listed below to pick up all the FREE pieces to this gorgeous collaborative Circus theme kit put together by the K-JOI team.
http://kjoistudios.blogspot.com/
http://www.triplettdesigns.blogspot.com/
http://www.mommietoadramanic.blogspot.com/
http://www.cactusmango.blogpost.com/
http://www.dragonslairdesigns.blogspot.com/
http://buzybeehive.blogspot.com/
http://www.fotosbylisajo.blogspot.com/
http://www.topsi-scrap.de.vu/
http://www.summerraindrops.bravejournal.com/
http://mlwcustomdesigns.blogspot.com/
http://groovygrannysplace.blogspot.com/
http://tinkstrinkets.blogspot.com/
Since I am not a designer.....yet, I have the privilege of hosting a link to a piece of the collaborative kit by none other than my friend Tabitha Triplett of Triplett Designs. Click the link below the preview to download my piece of the kit.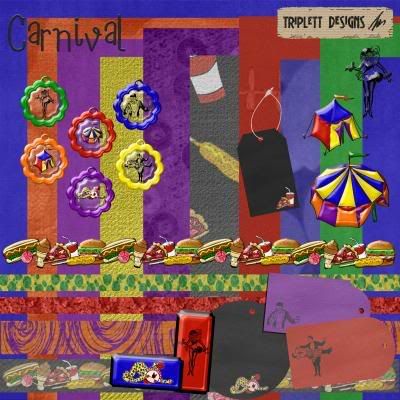 DOWNLOAD HERE
Please leave a comment letting me know how much fun you are having on our little blog carnival! Until next time!